'GunLover' Dating Sites*
Along with Gun Lovers Passions (the site you are on now), the sites listed below all focus on connecting gun loving singles with others who enjoy hunting, target practice, sport shooting, and other similar outdoor activities. It turns out there are VERY FEW dating sites designed specifically to connect hunters and gun loving singles. Most of the online dating sites tend to shy away from advocating for the 2nd Amendment and bringing together singles who enjoy careful, safe gun ownership and usage. If you are a gun toting single looking for someone else who enjoys hunting or target practice, check out the sites below to find the one that is right for you.
AD

Hunt For Dates
Search Thousands Of Single Hunters
If you love hunting and you'd enjoy connecting with other single hunters for dating, this is the site for you. Of course, while dating is the goal of the site, you might just end up with a fun hunting buddy. Chemistry is chemistry and it can't be counted on just because two people like to hunt. But have fun figuring out who you do have chemistry with, while you enjoy the outdoors!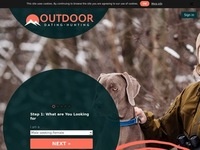 Hunting: Outdoor Dating
"Date Hunters and Find Your Romantic Match!"
If you are looking for single hunters in your local area, join today to start browsing the members of this site. If you are lucky, you will find someone fun to hunt with and both of you will see it as a fun dating adventure.

Date A Gun Lover
Find Other Gun Lovers
Welcome to a site that celebrates the 2nd Amendment. The members of Date A Gun Lover believe in the right to bear arms and they are looking for like-minded singles. Whether you are into sport shooting, target practice, hunting or more, Date A Gun Lover is a great site to meet other gun loving singles.

Hunting - Dating VIP
Find a Hunting Partner
Wouldn't it be great to find a hunting partner AND a partner in life? Well, in order for that to happen, you have to work towards that goal. Hunting - Dating VIP is a site designed specifically to connect single hunters, so join today to see which type of partner you end up with.
AD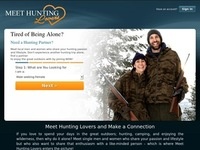 Meet Hunting Lovers
Meet Locals Who Share Your Hunting Passion
Why hunt alone when there are plenty of single hunters that would love to have someone fun to enjoy the outdoors with? Whether you are looking for dating, romance, love or just someone fun to hunt with, Meet Hunting Lovers is a great place to start.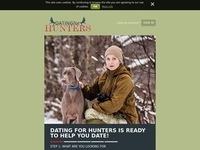 Dating For Hunters
Find A Hunting Partner!
If you are one of those people who believes that hunting is natural, especially (if not only) when you eat whatever you shoot, then Dating For Hunters could be the perfect site for you. Join to find local single hunters looking for someone who also loves everything about hunting. Planning ahead. Getting up early. The outdoors. Leaving the hassles of life behind to focus on that perfect shot and the great meal to follow.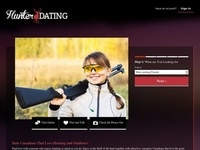 Hunter Dating In Canada
"Date Canadians That Love Hunting and Outdoors!"
"Find love with someone who enjoys hunting as much as you do. Enjoy in the thrill of the hunt together with attractive, energetic Canadians that love the great outdoors and want to have fun hunting! Connect with hunters who share your interests today!"
Hunting 4 Connections
Dating For Outdoor Enthusiasts
If you love everything about the outdoors, this could be the site for you. Meet others who love hunting, hiking, camping, you name it. If it involves fresh air and outdoor activity, you are likely to find others like you on Hunting 4 Connections.
AD
*Sites listed on this page are a combination of ads, affiliate related Sites and general non-partnership related sites that match the theme of Gun Lovers Passions.